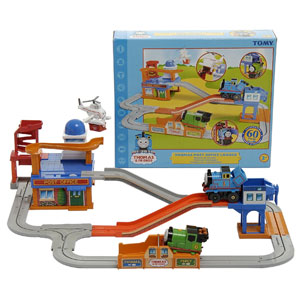 TOMY Thomas and Friends Post Office Loader
Used
** Excellent Condition
** 6 rocks available
SOLD
Product Features
*Fantastic new Thomas and Friends toy from Tomy.
*Set up the track, switch it on and watch it go!
*Thomas and Percy move the post around the track.
*Harold the Helicopter magically flies and delivers the post.
*Track is easy for young hands to snap together.
*Layout dimensions: 54 x 73 cms approx.
*1 x AA batteries required ( included)
*Manufacturers recommended age 3 years+
Product Description
Non-stop action fun for Thomas and his friends. Thomas picks up the post, chugs around the track and drops it off at the sorting office. Percy collects it, then up the hill he goes to deliver it to the post office. Harold scoops it up then flies around to tip it off ready for the fun to start again. This toy comes in an easy to fit together kit form, with the track nice and chunky for young hands to hold. The track easily snaps together and the Thomas and Percy are placed in their positions. Then just simply place a battery into the motor and watch as it moves around the track, picking up Thomas and then Percy. The motor also makes Harold 'take off' and drop the parcels into the chute so that the fun can start all over again!
This toy is great fun for kids of all ages! Once it is turned on you cannot take your eyes off it. It is almost hypnotic in the way that it works! It can be set up anywhere there is a flat surface – bedrooms, doctor's waiting rooms, even in office meeting rooms where only big kids will get to see it in action! Thomas picks up the post, carries it to Percy, who drops it off to Harold, who delivers it to Thomas…..
Children of all ages love Thomas and the adventures he has, and this toy allows them to create new stories time and time again. The motor can be used on any flat surface so Thomas or Percy can move around away from the set too. But the magic really takes place once the toy is set up and children watch in awe as the small balls are moved effortlessly around the track.